Q: How do I know if I should see someone?
A: There are many different signs or symptoms that children, women and men can watch for to know if they should be seeing a pelvic floor therapist. Some of the big things to think about include:
leaking (urine or feces)
urgency and frequency (many trips to the bathroom, or getting to the bathroom and voiding small amounts)
pain with intercourse
pressure in the pelvic floor
feeling like things are falling down or falling out
needing to 'lift' the pelvic floor or 'help down there' to void the bladder or evacuate the bowel
inability to increase activity due to any symptoms
low back, pubic symphysis, hip or SIJ pain
recurring tightness of the hips and pelvis
you have been pregnant
you have delivered a baby (vaginally or via c-section)
… and this isn't necessarily an exhaustive list, just the first things that come to mind for clientele that frequent the clinic. Essentially if you feel there is something that is 'off' or 'wrong' within the pelvic floor, abdomen or pelvis, seeing a pelvic floor therapist may be of benefit.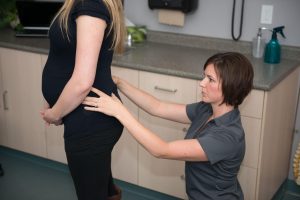 Q: Do you recommend that all women see a pelvic floor physio? Or just if they are "leaking"?
A: There are a great many symptoms that can be indicating factors for pelvic floor dysfunction that doesn't have anything to do with leaking in particular. To answer this question in short: yes. In long, I would say that many women would benefit from a pelvic floor assessment regardless of their "leaking" status, especially for women who have had children, or anyone who experiences pain with intercourse.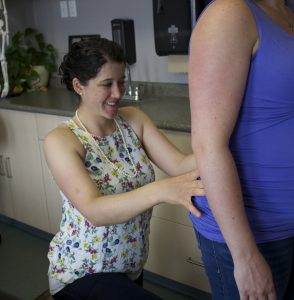 A big reason for the general answer of "yes" is the fact that what we know about pelvic floor is not necessarily functional working knowledge. Rather, most women 'know' they are supposed to do 'kegels', and yet no one has taken the time to explain or ensure that they are being done correctly. What we know about kegels is that they are meant to strengthen the pelvic floor, and most women describe that they imagine SQUEEZING the pelvic floor. As my clients know, the pelvic floor to work functionally needs to LIFT UP and IN, not squeeze, as well as RELAX down and out.
Just because you aren't leaking, doesn't necessarily mean that the pelvic floor is functioning well. Just the same as even though many people do not have knee pain, they often have weakness or tightness that could be addressed to prevent issues arising in the future.
Q: When do you recommend women be seen? During pregnancy? Post-partum?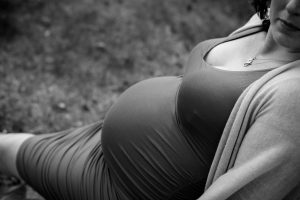 A: Women can and should be seen whenever they are having issues. Issues are bound to arise during pregnancy and post-partum. So long as there aren't any contraindications to a pelvic floor exam by the treating physician or OB, assessment during pregnancy is possible as well (after the first trimester). During pregnancy some women will choose to attend an assessment for labor and delivery preparation after 32 weeks gestation to help get a better handle on relaxing the pelvic floor; we do want a baby to come down and out after all!
Post-partum we are able to see women that are painful as soon as they feel up for leaving the house, and specific for pelvic floor assessment approximately 6-8 weeks post-partum. Pelvic Floor Therapy is able to address c-section healing and recovery, as well as perineal healing and recovery. Tearing, surgical incisions, other birth traumas can all be addressed in the post-partum phase.
Q: What if I haven't had children in a few years but am experiencing problems? Can physio still help?
A: YES YES YES! The absolute best thing about the body is it's propensity to change. It is never too late to see a pelvic floor physio, 8 weeks, 8 months, 8 years or longer we can always see what changes can be made to help resolve any complaint
Q: What are some signs of a weak pelvic floor?
A: The simple answer for this one is leaking or incontinence. The long answer is – it depends on whether it is loose and weak (not very common) or tight and weak (much more common). Often we equate something being tight or taught with being strong, but this is definitely not the case with the pelvic floor. A tight but weak pelvic floor often progresses through one or a combination of: discomfort or pain with intercourse, constipation or difficulty completely emptying the bowels, discomfort or bruised feeling through the perineum or tail bone, hip tightness and restricted movement, low back pain… and more. One client had neck pain (right by the shoulders) that she had had since her second was born (5 years previous) and nothing seemed to help. Ultimately this client had pelvic floor weakness that was driving her neck pain!
Do you know someone having issues with this area? Maybe they have some of the complaints listed above – share with them! Are YOU someone suffering with these symptoms? Contact us today to get started your path to resolution!
Do you have some BURNING questions you want answered that wasn't covered? Send them our way and we will get them going in Part 2!
Haylie has been practicing women's health and focused in prenatal and post-partum care since graduating from the U of S MPT program in 2011. Advocating for treatment for women, ensuring appropriate and effective care throughout pregnancy and post-partum, and helping all expecting and post-partum moms brought her to open her family-friendly clinic; where clients are encouraged to bring their infants and children to treatment. Warman Physiotherapy & Wellness has been nominated for the 2016 WMBEXA and ABEX Awards, is a WMBEXA award recipient of 2017, and Haylie was recognized as YWCA Women of Distinction for Health & Wellness in 2017.
https://warmanphysio.com/wp-content/uploads/2018/01/hiking.png
800
800
Haylie Lashta
https://warmanphysio.com/wp-content/uploads/2016/05/warmanphysio-300x110.png
Haylie Lashta
2018-01-09 09:57:23
2020-06-18 09:49:57
What YOU want to know about the Pelvic Floor: Part 1