I am truly grateful for the amazing team we have at Warman Physio. Through all the COVID changes we have been able to work together and make the necessary changes (nearly) seamlessly. We are so thankful for our amazing clients that have been understanding and accommodating with all the new policies and procedures. Without the support of our community we wouldn't be able to continue to function during these stressful times. However, we all know life doesn't stop and issues don't resolve because of viruses! Those that have been hoping for an SLP right here in Warman are in luck!
Welcome Jill Morgan SLP!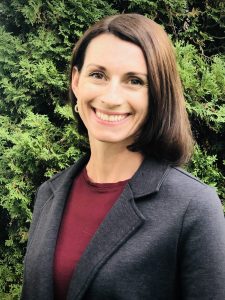 We are thrilled to be bringing Jill to the team at the clinic to work along side our therapists. She is kind, understanding and compassionate with her clients and passionate about what she does!
About Jill and Custom Speech Therapy:
Jill holds a Bachelor's degree in Linguistics and a Master's degree in Communication Disorders.  She is a registered practicing member with SASLPA, and holds memberships with SAC and ASHA.  She has been a practicing Speech Pathologist for over 10 years.
Jill has spent the majority of time serving children under age 6 with a variety of needs. From very mild speech and language delays to more significant developmental delays and complex medical needs. She also has experience working with older children and teens.
Originally from Saskatoon, Jill has an understanding of the unique challenges that exist in Saskatchewan with so much space and a small population.
"I find the variety in this work fascinating and rewarding. I believe strongly in the important role of caregivers. Supporting parents and caregivers to use the strategies taught in therapy increases the benefit of each appointment." – Jill Morgan, SLP
What is an SLP?
A Speech Language Pathologist (SLP) helps enhance speech, language, interaction and feeding skills.
Expect to hear more about SLP and when it is appropriate to seek her services at the clinic!
To book an appointment contact Jill directly HERE
https://warmanphysio.com/wp-content/uploads/2016/05/warmanphysio-300x110.png
0
0
Haylie Lashta
https://warmanphysio.com/wp-content/uploads/2016/05/warmanphysio-300x110.png
Haylie Lashta
2020-08-19 12:13:06
2020-08-12 14:42:11
Welcome Jill SLP!