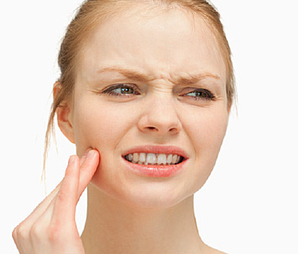 Have you heard of your temporomandibular joint (TMJ)? It's one of the most used joints in your body. Did you know physiotherapy can help with TMJ problems?
Your TMJ, also known as your jaw joint, is used for eating, talking, expressing emotion (both consciously and unconsciously) and breathing.
Pain associated with dysfunction in this area may be felt in the jaw line, cheek, ear, temporal region (side of head) and commonly associated with headaches and neck pain. TMJ problems, or TMJ dysfunction (TMD) can also present as inability to fully open your mouth, pain with chewing, popping/cracking with opening and closing your mouth, and/or grinding/clenching of teeth.
Some of the causes of TMJ problems can be derangement or displacement of a disc between your mandible (jaw bone) and skull, muscle dysfunction, habitual clenching/grinding (bruxism), or trauma to the face and jaw. Common contributing factors to TMD can be stress, anxiety, prolonged opening of the mouth (e.g. during dental procedures), mandibular malalignment or orthodontic work to name a few.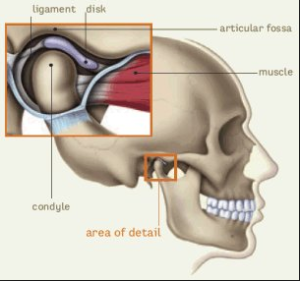 A physiotherapist will assess the TMJ by asking a detailed history, taking observations of jaw alignment, posture, and neck position. They will observe how the individual opens and closes their mouth, looking for abnormal movements patterns, and observe for clicking from the TMJ. The therapist will palpate externally for muscle tone, and to assess the movement of the TMJ. Using gloves an intra-oral assessment will be completed as well to determine how the joint is functioning, and to further assess the myofascial system. The neck is generally assessed as it can commonly contribute to dysfunction in the TMJ.
Following an assessment, a treatment plan and home program will be developed.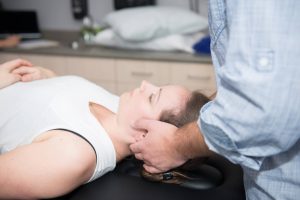 Ms. W comes in with complaints of pain through the right greater than left temporal region of her jaw, inner ear on right, frequent headaches and stiffness in the jaw that is often worse in the morning. Recently she has begun to noticing a clicking from her right jaw, especially when she yawns or eats chewier items. Her dentist advised her she likely has TMJ problems and recommended that physiotherapy may help.
The physiotherapist may ask a few of the following questions: How long have you been dealing with this problem? Do you ever find yourself clenching your jaw in times of stress or have you been told you grind your teeth overnight? Any recent dental procedures? Any history of trauma to the face or neck?
As mentioned above the TMJ is one of the most frequently used joints in the body. Most clients who receive treatment for their jaws have been experiencing symptoms for some time, and often did not know that physiotherapy can help. Commonly they have seen their doctor or dentist prior to seeking treatment.
In the case above the individual likely has a longer standing history of clenching, also known as bruxism. Commonly people can do this subconsciously during their sleep, or in times of stress. When frequently clenching the muscles of the face and jaw can become fatigued and become sources of pain. When muscle are held tight for long enough they can start to alter the way the jaw moves, and lead to problems with a disc located between the jaw and the skull.
The physiotherapist will develop a treatment plan specific to Ms. W's presentation completing treatment specific to the muscles surrounding the TMJ and the joint itself.
If any of the symptoms described sound familiar, book in for an assessment today!
https://warmanphysio.com/wp-content/uploads/2017/04/TMJ.png
254
298
Haylie Lashta
https://warmanphysio.com/wp-content/uploads/2016/05/warmanphysio-300x110.png
Haylie Lashta
2017-07-27 06:58:46
2018-11-08 14:58:19
Do YOU have TMJ?